We've written on our philosophy of travel before. In an increasingly globalised society — one where wearying sameness produces irreparable cultural damage and makes your trip so much poorer — we will, again and again, offer you experiences that are wondrously diverse from what you will find at home.
Insider's Italy plans special trips that are the exact opposite of shallow, easy, fast-paced travels.
And in 2018, we reaffirm our travel philosophy :
1. We do not book large US style hotels, ever.
Nearly every one of our hotels is an historic inn that has kept local character, architectural details and spirit. Every single one has taken special interest in sourcing local and national materials in tiles, fabrics, furniture, stone. Many of them are eco-conscious. Many are associated with agricultural estates.
In your travels we want you to celebrate the differences in ways of life. Your hotel — or your villa — will feel Italian — or more specifically Venetian, or Sicilian, or Tuscan or…
2. It is usually hard to plan an American city vacation without a car. In Italy, conversely, we book city hotel locations such that you can do nearly everything on foot.
Without exception, Italian cities are fascinating in their urban planning, architecture, colors and life. Walking is a delight. Walking allows for discoveries you can never make otherwise. Our own self-guided walking tours — filled with Insider's details — fill the Plans we write for you.
3. Even in the countryside, we encourage limited or minimal use of a car. When inns or hotels are not accessible by public transport, and we do book cars for our clients, we also suggest maximum use of public transport and walking trails. We suggest use of smaller cars with highest fuel efficiency.
We have guides for many countryside locations, including on these historic Campania region walking paths.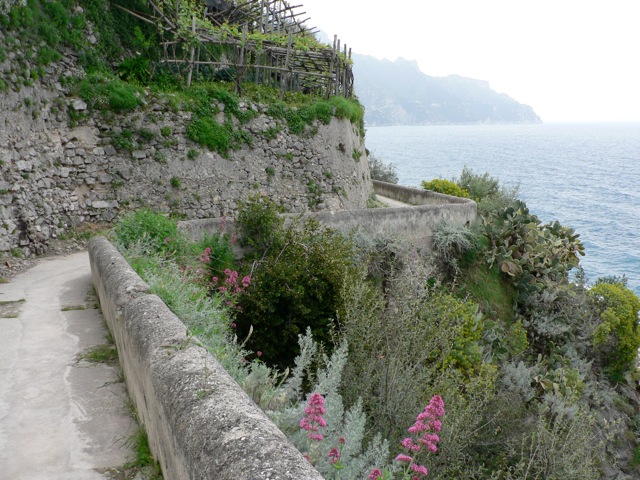 Their expertise lies as much in geology and local history as it does in flora and fauna.
Here our special friend Gio cuts up his own Slow Food presidia tomatoes for you for a morning merenda and pours on local, new season oil. You will enjoy this during a long stop on one of the world's very greatest walks, which he leads for our travelers.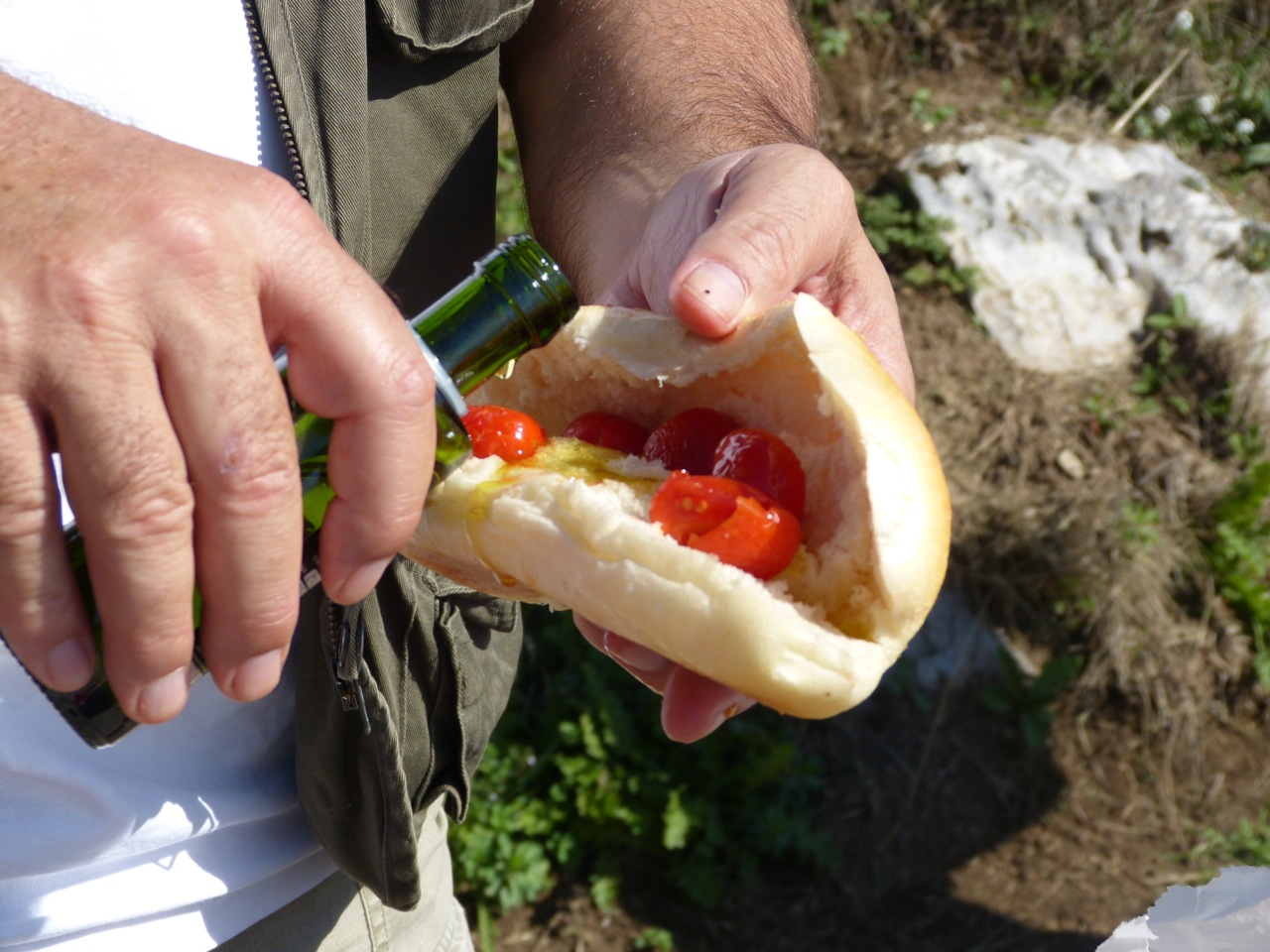 4. We Americans are obsessed with change and speed. Insider's Italy travels instead generally focus on exploring a small area in depth — and moving as little as possible.
Our clients travel slowly, stay a while, and enjoy every experience without accelerating on to the next destination over the hill.
5. We recommend local artisans, small scale food producers and others whose work is socially enriching and whose professions need support if they are to survive.
We lead you to a magician with local leathers who produces timeless products of great elegance and style, and who is following in the footsteps of his father and grandfather.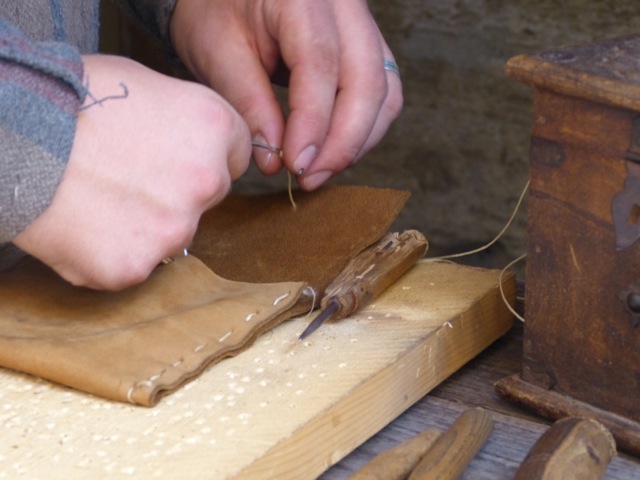 Please encourage farmers who refuse the American model of factory farming and visit an organic dairy that makes what must surely be the best buffalo milk mozzarella in the world.
Instead of directing your spending power towards touristy chains that have a negative effect on a city, let us help you to invest in the health of small enterprises and the living fabric of the place.
A typical example of the sort of discovery we love to share is Casolet, which is one of the most exciting cheeses we have ever eaten.
This raw milk cheese, which has been made since Roman times, is produced in very small batches only in the Val di Sole, in Trentino Alto Adige, 90 minutes northwest of Venice, and is rich, vibrant and pungent, with a remarkable buttery finish. Nowhere in America will you find a cheese like this — it is not exported –- and sampling it with a local apple (indigenous varieties unknown in the US) is a Slow Food paradise pairing.
Learn an Italian artisan technique yourself. Let us guide you into the homes of small artisanal producers eager to show you how traditional foods have been made for centuries.
Learn to make Cristina's magnificent, tiny gnocchi (cooking in her own kitchen, with her own potatoes, which you have picked yourself..)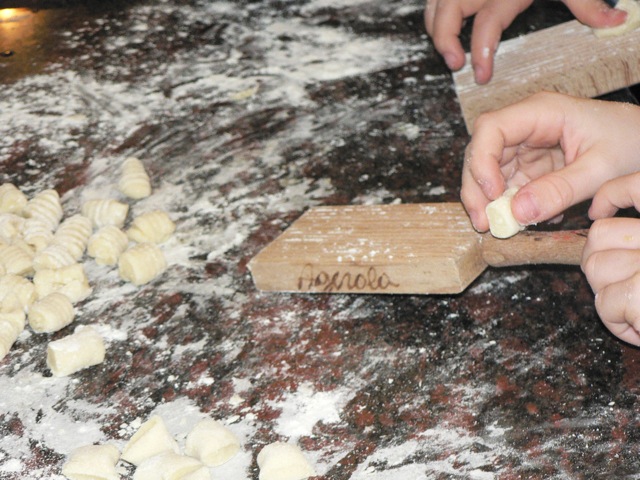 Or mosaics, with Arianna in Ravenna.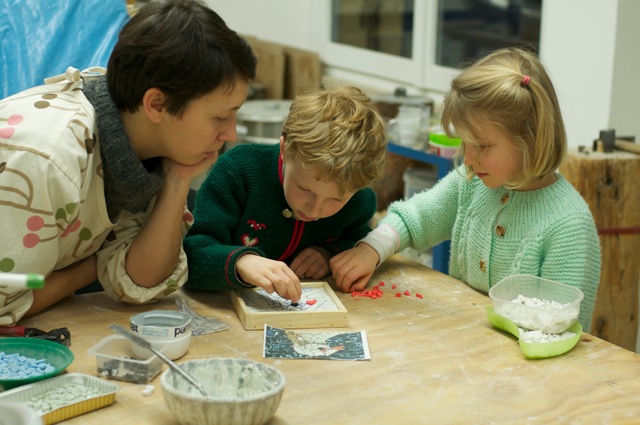 6. The docent guides we suggest are all locals and are deeply involved in their field : these are architects, restorers, painters, educators,historians…
Walks are on foot, and purposely slow paced so that you can speak, ask questions, and develop a real understanding of the subject matter.
7. We do not recommend fusion or nouvelle cuisine restaurants — but only traditional, regional favorites.
We will introduce you to the best Italian home cooking, the kind you will never find outside of Italy. This is direct, free of artifice, and is a celebration of seasonal ingredients.
Italian cooking is at its most successful when direct, uncomplicated, free of artifice in taste or appearance.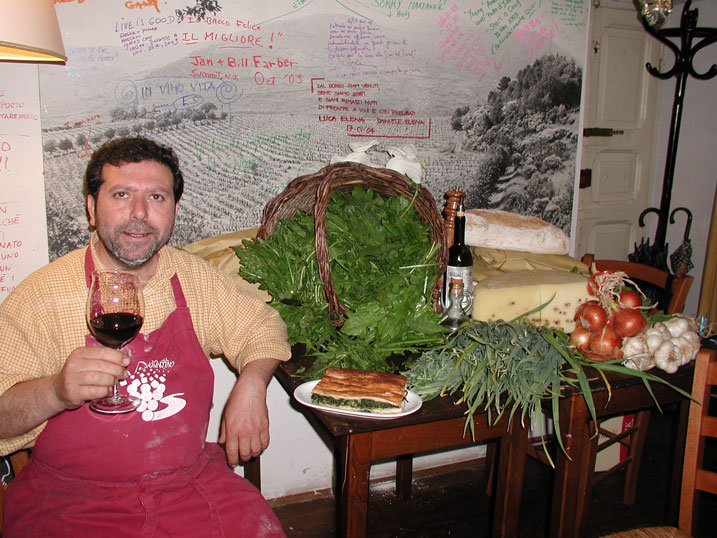 Salvatore. The wine he's drinking and the vegetables you see are all his own.Our ideal restaurant is probably family-run, and directed with passion and humility. The best restaurateurs in Italy today come from a strong regional or local tradition.
7. Our Regional Eating guides, and market guides for most locations, help you to understand what is local and in season in each location so that you do not miss superb, strictly regional delicacies that you will not find at home.
8. We encourage off-the-beaten-track regional travel. Please let us guide you to the Trentino, to Basilicata, to the Abruzzo… to regions where traditional life continues.
Our hotels and inns here, as throughout Italy, are all selected to offer a very high level of comfort and four- and five-star standards.
Two hours east of Rome, we recently saw an elderly local lady balancing on her head — with great grace — a copper urn that she was carrying from a fountain to her home. As a child, I would see this in Rome. Traditional sights like this are gone from every major Italian city, and you will not find them either in Tuscany. Let us guide you to regions that are more off the beaten path.
9. In June '18, for the seventh time, we are joining the centuries-old transumanza, or transhumance, for three days of walking with the sheep. For perhaps 3000 years nomadic herders and shepherds have been moving their sheep from winter to summer quarters on paths that are so well beaten as to be visible from the air.
This three-day experience is not for everyone (camping and homemade traditional country meals, including just-made sheep's milk ricotta and fresh pasta) but for others an experience like this is a celebration of Italy's "differentness" and rich agrarian history and will be the highlight of a trip.
The point we make is this : throughout your travels, please consider partaking in situations that are unlike anything you will find at home and that are unique to the fabric of Italy.
10. Please consider traveling as we do, with Slow ideals. You will be part of a small but significant revolution. And your trip will be so much richer for it.