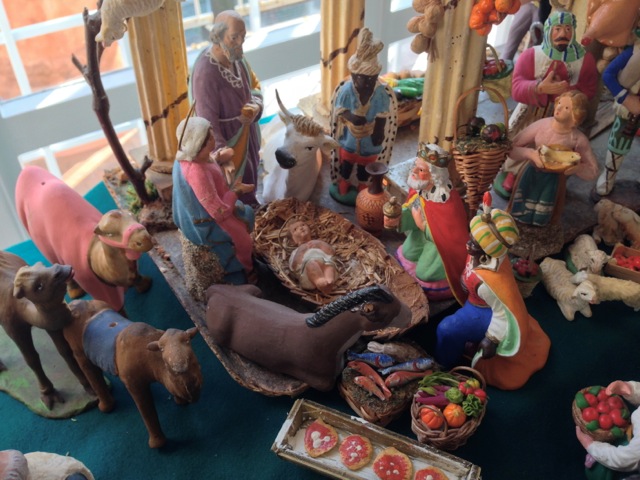 Fishermen and washerwomen and fishmongers.
Out come yellowing newspapers of the 1950s and all the way through the present day. Reading headlines and advertising from these years is a wonderful diversion.
Out come a few silver fish.  Out come a few fingers too.  Presepio figures always loose a few appendages during  the stress of wrapping and unwrapping.This year we have a new puppy who would love to join my presepio landscapes.
And also I set up the presepio far too late, anyway, to be ambitious : rather than sprawling the scene across various pieces of furniture I arrange this year's presepio on just one long table (the market, the creche scene, the osteria and the puppet theater) while the water scenes and the musicians and shepherd are on a high, ancient dresser.
My son asserts that he will build a little rope ladder to connect the two arenas.  Which is a charming idea, but the presepio figures, I explain, have a fear of heights and would not like to undertake the three feet walk from one table to other.  (Actually, many are already lacking limbs or have had arms, legs, feet or heads glued on once or more : these four inch tall terra cotta figures are delicate.)
Some years when I put the figures out I recreate scenarios I have been designing since I was first old enough to help to organize the presepio.  The favorite woman with the green blouse and blue skirt carrying the ricotta always talks to the lady with the polca-dotted head scarf.
As I put the two down together, they recommence the conversation they have carried on for decades, and surely not as if a year has past.  They talk about food, and they complain about how heavy the ricotta is that they have to carry.
The puppet theater always presents the same show, the same Pulcinella (Punch and Judy) I first saw on the Rome's Janiciulum Hill when I was three, and which plays in a happy continuous rerun in our presepio year after year after year.
I miniature myself.
I am one of the several priests with the red umbrellas or red bible and I am speaking to another two priests with a red umbrella about the weather.
I am the old lady carrying the pigeons, and the tiny mussels in the blue platter are just the right size for me to purchase. I might take them to Jesus or I might not.  I might spend the day just speaking to my so-familiar friends in the market and keep away from the butcher, whom i have never liked (he cheated me once in 1971.)
I arrange a tiny carcass of beef among the pile up of presents at Jesus' feet.