Spring is here !
In Rome, we are celebrating with vignarola, which is spring in your bowl, a combination of artichokes, peas, fava beans, spring onion, canasta lettuce, garlic and olive oil—a wonder. Enjoyed on our terrace—because the al fresco dining season has begun here, at least for lunch, and very soon will extend to evenings too.
And if we had been through the exceptionally rough winter that so many of you still endure this year in the U.S., we would be hard pressed to chose among these springtime Italian treats. (Please complete our no obligation survey if you would like our special ideas for your own trip.)
1. The Valle D'Orcia, where the unworldly, near-fluorescent springtime green is unforgettable. Red poppies will soon add to the beauty. Hill-towns are varied, vineyards remarkable (ask us for our lists of mostly smaller, special vineyards of Brunello and Rosso di Montalcino and Vino Nobile di Montepulciano.) Many of our vineyard favorites are organic or natural—and in each we will make direct connections for you to the owner or winemaker. Would you be interested in our favorite Valle D'Orcia (sheep) cheese makers, or a private seminar on local cheeses, possibly paired with local wines ?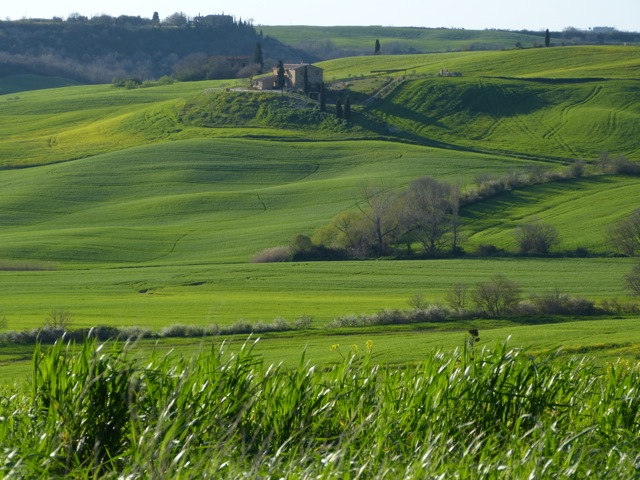 2. Gardens are at their seasonal peak.  Gardens are an Insider's Italy specialty, and we are delighted to include as many as you wish in your itinerary, or to build a trip around our favorites that will be at their best during your travel dates. Some of these are closed to the public but we arrange for special visits.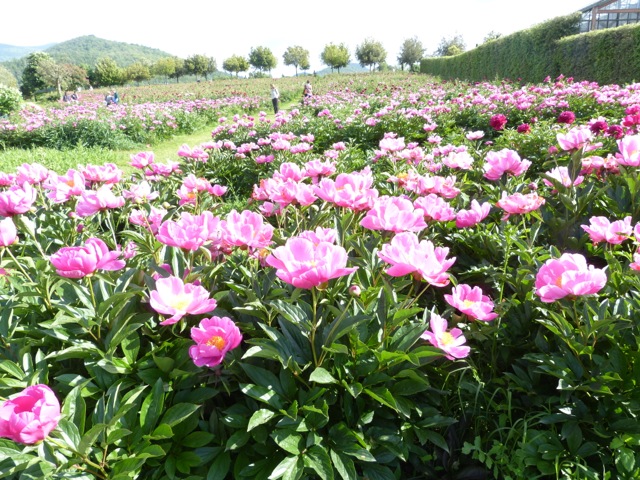 We also have garden experts who can accompany you — please ask us for details.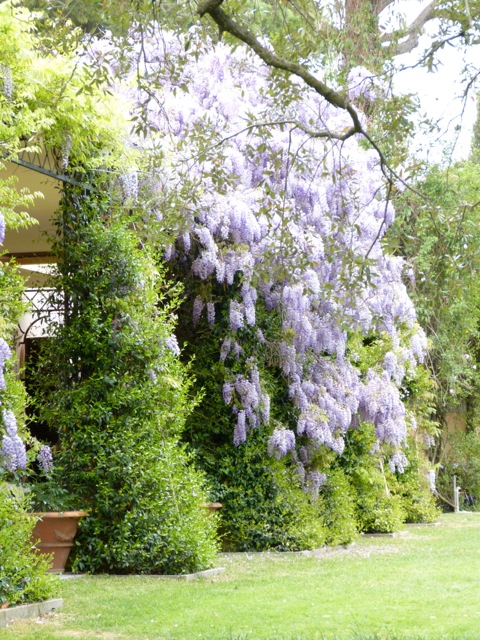 Lavender is beautiful throughout the world but our lavender farm—included in many spring time Ultimo itineraries—is a remarkable inclusion; the lavender is backed by Assisi.  None of our Roman friends have ever heard about special discovery—but past clients in California, Texas and Georgia all know the spot !
3. Spring time religious festivals are splendid in Italy with a degree of civic participation that may be unmatched by any other European  country.  Here (photo below) a whole town turns out to prepare for the Infiorata in which locally gathered flower petals (drying in great racks below) are made into city-wide street carpets portraying scenes that are sacred or floral.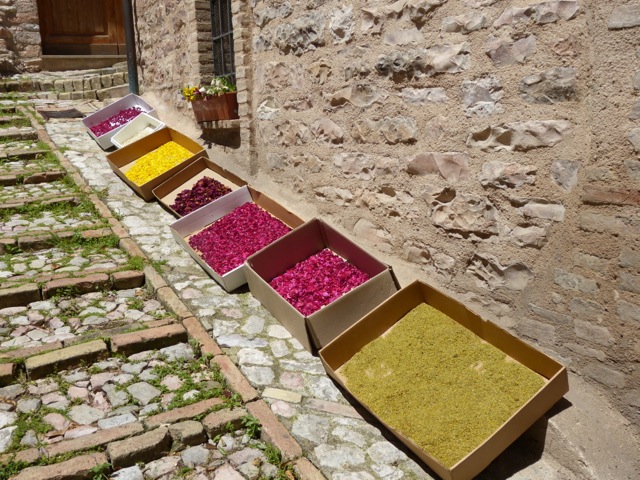 Ask us please for our list of region-by-region festivals (we have ourselves attended most we suggest).  We often select your bases because of the occurrence of a special celebration in that place on a particular day.
Other spring festivals include superb food sagre—to greet the arrival of spring-time foods (asparagus, strawberries, black celery, fava, flowering caper) and, worth the trip to Italy for alone, the May recreation of medieval life that overtakes the tiny Umbrian city of Bevagna.  It is not surprising that tourism here is nearly all Italian : after all, we are in spring, and the peak tourist season has still not begun.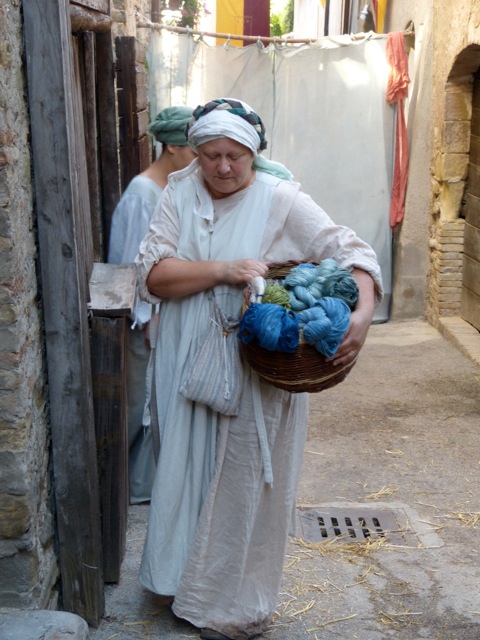 4. Artichokes. We did mention them, but must do so again : they are so much a part of Italian springtime eating, in so many regions, and we hope you will let us tell you about our many favorites up and down the peninsula where they make them so well — including restaurants that seasonally serve only artichokes in dozens of special ways.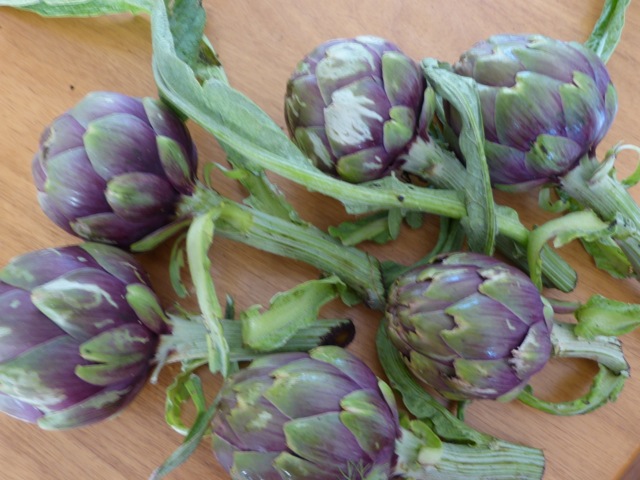 5. Swimming without the crowds. You will have many very special beaches to yourselves. The one below attracts tortoise and dolphins. We swim in Sicily in April.  And know many of the loveliest beaches.
6. Poppies. I have seen them all over Europe, but the poppies of Italy seem even more beautiful. Poppies bloom from January through June in much of Italy.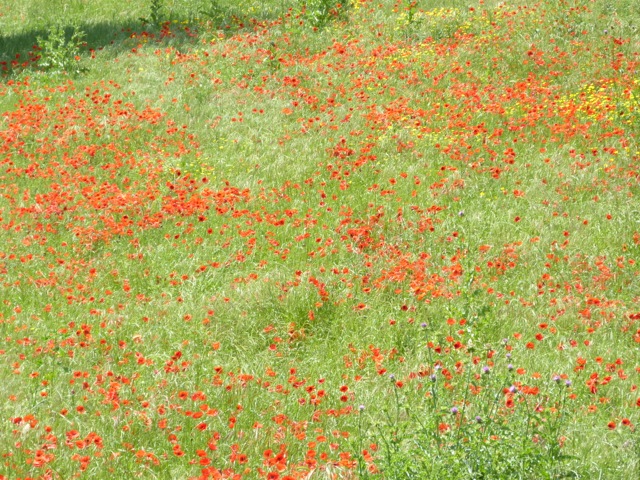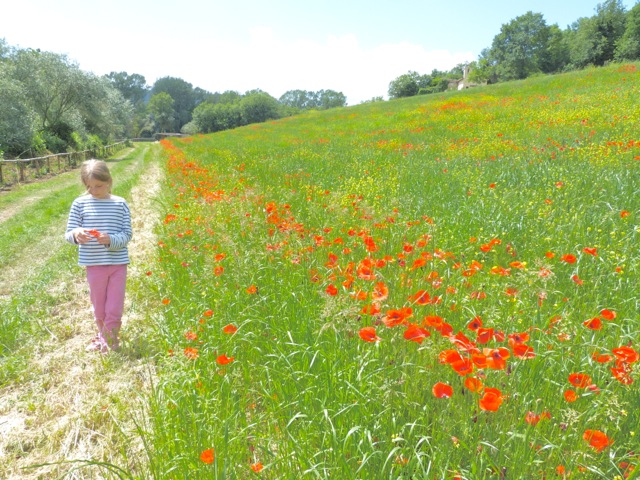 Mix them with at least ten varieties of wild flowers in a particular location in Umbria — and with flowering lentils — and you have surely one of the most beautiful springtime spectacles in all of Europe. Flowering starts in May.
7. Important, popular sights like Sicily's temple of Juno in Agrigento are relatively tourist free in the spring.  Allowing you the space to enjoy as long as you wish, without crowds.
According to the UN's world tourism organization, there are a billion international tourists today, a figure that will double in a decade. Places available for them to visit will certainly not double. The historic buildings, towns and landscapes of Italy are vulnerable and irreplaceable—touring them out of the peak tourist period, for example in the spring and not in the summer, means that you are not contributing to the savagely concentrated over-visiting that occurs during standard June through September vacations months.
8. Some of the best opera and symphonic music of the year is in the spring—this in larger urban opera houses like Milan, Naples, Rome and Florence and less celebrated ones (like the smaller jewel-like theaters of Emilia Romagna, which have an unusually discriminating audience.)
Please ask for for listings, and have us hand-book seats for you. Classical music is one of our passions, and we keep up with contemporary Italian singers and houses.
Hotel costs at spring's beginning are are still very low—rising up from low to mid to high season as the weeks go by. On the Amalfi coast for example you can be swimming and still enjoying lowest season rates.
In the Dolomites, the loveliest wild flowers coincide with the lowest hotel rates. For reasons of both economics and to avoid severe and unsustainable overcrowding we visit Venice only in the winter and the spring. You might consider doing so too.
We're here to assist you—families, couples, honeymooners, friends, multi-generational groups.  Let us share our favorite spring places with you.