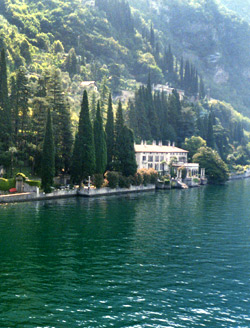 These six friends began with four relaxing days on Lake Como, by far the most romantic and Italian feeling of the lakes. Their base was a village that is the pearl of Lake Como, and their luxury-class hotel was superbly comfortable, with elegant, beautifully appointed rooms. They departed next for Florence, a city they wished to revisit. They stayed at the loveliest of the all of the Arno River hotels, with dreamy citywide views from their windows. Their visit concluded with a week at a special villa in southern Tuscany, a skillfully converted 18th-century farmhouse with perfect baths and a cook's kitchen, as well as lovely gardens, including a vegetable garden, and a beautifully landscaped private pool.
The enthusiastic cook and pizza chef were much appreciated, though the friends often dined out too at a number of nearby Slow Food-focused "trattorie". Excursions were to Siena, Montalcino, Pienza and Montepulciano, as well as to local markets, festivities and smaller villages.
Renting a house of their own was not only wonderfully restful, but it allowed them to feel they had gotten a real sense for what it might be to live in Italy. Florence provided an immersion into art, architecture and classical music, while Como was an idyllic beginning to a well-paced trip.