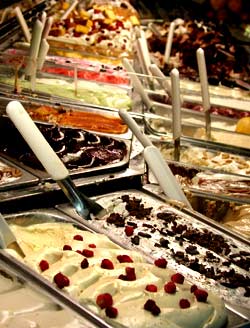 In the decades that Marjorie has spent living in Italy, she has taken hundreds of pages of notes on everything she has eaten and drunk. She has chronicled food and drink in restaurants, markets, pastry and ice cream stores, wine cellars, coffee bars, bakeries and delicatessens. Her boundless interest in local cuisine and wines is the basis for our exhaustive Good Eating supplements.
Marjorie's gastronomic discoveries in every region of Italy, from the smallest German-speaking village in the Alto Adige to the southernmost town in Puglia, are the ever-renewed source for our restaurant recommendations.
While major cities are essential destinations — logical because of their history, art and food — for any well-rounded Italian traveler, when we design a gastronomic tour for you, one that lays equal emphasis on culture and cuisine, we will suggest that you take another approach. We will recommend that your focus be on regional capitals and especially provincial towns, smaller villages and countryside locations.
Only then will you come away with a genuine understanding of the gastronomic personality of a region and really gain an insight into the paradise that is Italy's cuisine.