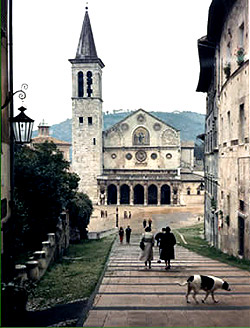 For their second visit to Italy, this couple flew directly into Venice, settling in with five nights at a lovely first-class hotel with unforgettable views from their room's terrace. On their sixth day they picked up a car to depart for Umbria, Tuscany's beautiful, lesser-traveled neighbor.
Excursions were in the immediate environs, focusing on picturesque towns that seemingly defy gravity by terracing down steep hills. Their headquarters was an off-the-beaten-track medieval town near Assisi, set spectacularly among olive groves and with lodging in a family-run inn, which offers an outstanding restaurant with one of Umbria's most exciting seasonal menus and wine lists.
Day ten brought a departure for the Amalfi coast and a turn-of-the-century, five-star family-run hotel that is the most beautiful on the peninsula. The extensive property is spectacular, with terraced gardens, olive groves and lemon orchards descending to the sea. Our couple swam in placid, clear waters, lunched on the region's best pizzas, took our Insider's Amalfi Coast Walks, and explored coastal towns and archaeological sites.
Departure was from Naples, an easy drive away, on their 15th day. They returned home feeling fully rested and delighted with the variety of their Insider's itinerary. As promised, our clients gained insights into an Italian heritage unspoiled by crowds.