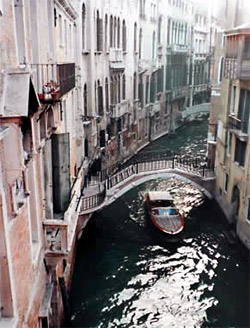 To give first-time visitors a more meaningful feel for Italy, we suggested that five days of their 13-day itinerary be at a countryside base in Tuscany and to select only two other bases, Rome and Florence, each for four days. This allowed a relaxed pace for lingering at museums and restaurants, and to develop a real sense of "place". In Rome, Insider's walking itineraries were supplemented by two half days spent with our art historian, unsurpassed as a guide to the Vatican and ancient Rome.
Their countryside base was a special favorite: Chianti Classico, a splendid wine-producing area south of Florence that was the backdrop in movies "Stealing Beauty" and "Much Ado About Nothing".
Their country-inn base allowed for easy accessibility to walled medieval cities like Siena, Lucca and San Gimignano, interesting hill towns in Tuscany and Umbria, our own vineyard walks and, one high point, a mass sung in Gregorian chant in an isolated Romanesque abbey.
Tempted? Complete our travel planning survey to request an initial consultation. For a modest fee, you will receive a three to six page customized itinerary and a proposal for our comprehensive services.