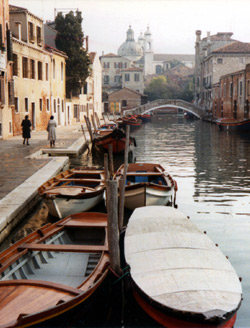 "Your name is synonymous with the magic of Italy. You taught us and our extended family how to travel. And now that I have observed Italians for a while, I see that that sensibility comes from the Italian way of life, which is so much a part of you."  C. Panagoulias
Insider's Italy, Travel Planning for Curious Travelers
When I began Insider's Italy in 1988, we were the first travel planning company for Italy.  And we remain the single most authoritative resource for discerning Italy-bound independent travelers.
We provide fee-based, personalized travel planning to individuals looking for an experience far beyond the traditional tourist holiday.
We are exclusively a word-of-mouth business and rarely advertise. Friends tell friends about us. A good half of our clients are repeats.
Insider's Italy is based in Rome, with a New York office. We devote months of each year to meticulous research. No other organization can offer our continually updated private archive of personalized Italy travel information.
Insider's Italy keeps up to date on the Italian scene—restaurants and hotels fall in and out of favor; museums shut or modify opening hours; scaffolding comes up and down. Our recommendations are selected with critical discrimination, then double and triple checked.
After completing our travel planning survey and submitting the initial consultation fee, you will receive three to six pages of personalized travel suggestions, including an outline for a suggested itinerary and a detailed proposal for our comprehensive services.
We listen carefully and unhurriedly to your concerns and interests. Each custom Travel Plan is developed around your budget and your expectations.
Insider's Italy is a family business. Marjorie was born in Rome and has lived for most of her life in Italy. Robert, Marjorie's husband, coordinates villa rentals while handling the firm's business affairs. Isabel, Marjorie's mother, is Rome-born, too. Together, she and Marjorie have lived in Italy for over 75 years. Isabel maintains close personal liaisons with special hotels and inns and coordinates room reservations. Nathan Louis and Isabel, children of Marjorie and Robert, are an extra motivation in developing child-delighting itineraries.