An announcement is made, while we're en route, that the train will be delayed by 30 minutes to an hour.  Alas, it hasn't happened yet but hope springs eternal.  Like children listening to the radio on an early snowy morning hoping to hear that school has been cancelled, we hope that our train, en route from Rome to Florence, will be delayed so that our delightful journey on the new Italo train will be drawn out indefinitely –– and this even though we're travelling with two young children.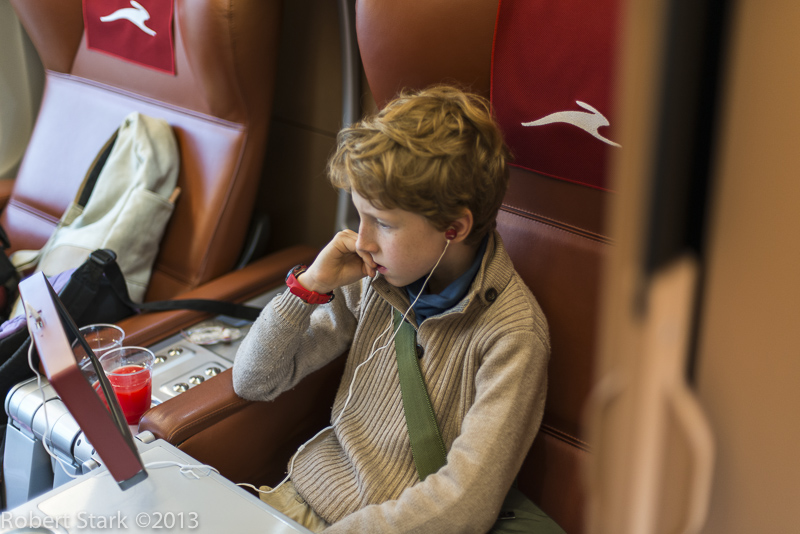 Our snug and very comfortable private compartment for four has large, clean windows to look out onto the passing Lazio, Umbria, Tuscany landscapes.  The children are so content with books and drawing paper that they have only passing interest in the movies offered on their individual monitors, like those in business class on airplanes.  And, since we mention airplanes, the food on Italo is much better than even that on most business-class flights –– not that we wish to damn by faint praise. In fact, Italo has partnered with Eataly (the same Eataly in New York City that has attracted such positive attention).
If one wants a substantial meal, served in the form of  Japanese bento boxes, one orders it in advance, and it is succulent and fresh; otherwise, in the Club Car class, one is offered an assortment of delicious and innovative fresh snacks, both sweet and savoury.
Wireless internet is free. Bathrooms are impeccable. Would we like a newspaper? Architectural Digest? Our personal steward in the salotto (salon) car appears often to ensure that all is just as we wish.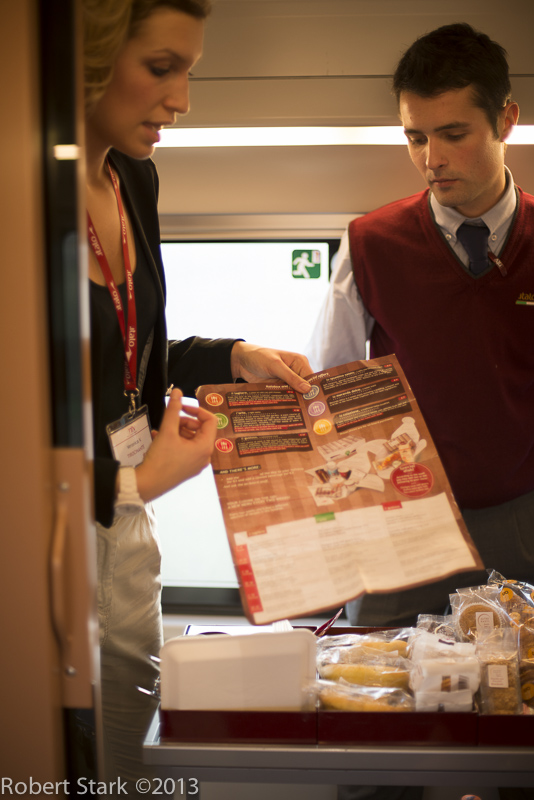 However, perhaps the best and most important part of Italo is the staff.  They are mostly young, vibrant and demonstrate the esprit de corps and bonhomie that only good management that treats all its employees well can sustain.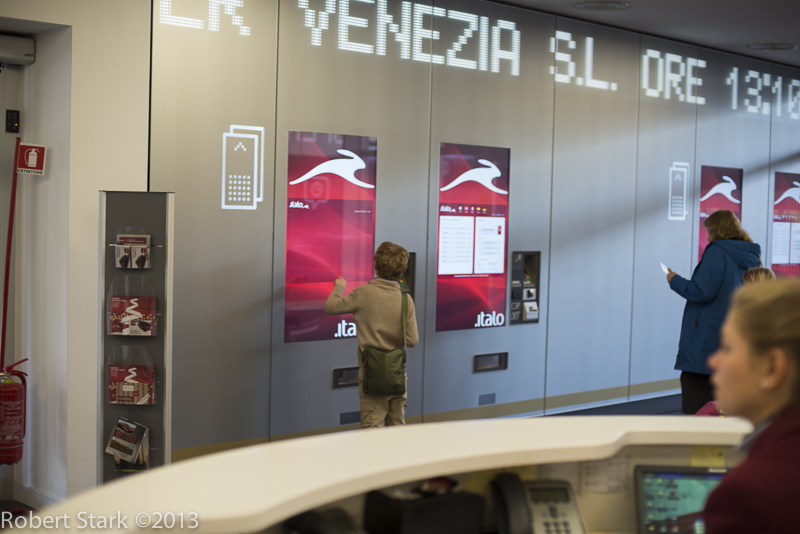 It starts when one enters the special office of Italo in whatever train station one happens to be in.  From being in a big, ugly and impersonal station, one feels as if one has been transported to a small-town or country train station.  One is greeted by a host of service personnel asking (in English for non-Italian speakers) if one needs assistance, which assistance is given immediately.  Missed one's train?  Do not worry –– a new ticket is issued for the next train (a confession: we know, as this has happened to us twice).  Confused about which track?  There are Italo train personnel standing at the bottom of the stairs leading up to the proper train track and alongside the track, as well, to direct one to the proper carriage –– all seats are reserved by number of course,  unlike American trains.  Travelling with children and too much luggage?  Train personnel helped us carry our bags from the Italo office to the track where we were met by other personnel who helped us onto the train.
Clearly, the parent company of Italo, Nuovo Trasporto Viaggiatori (NTV), views itself not just as a transport company but as an up-scale tourism venture.  On our last trip, returning to Rome from Padua, we had a very pleasant chat with a member of the train staff –– a lovely young woman.  She holds a BA degree in tourism.  This is a company that takes seriously a commitment to customer service, employee welfare and social responsibility.  It was she who explained to us the conscious management decision not to have music piped through the audio system and to instruct all employees not to wear perfume or cologne.  The offered moistened towelettes are unscented.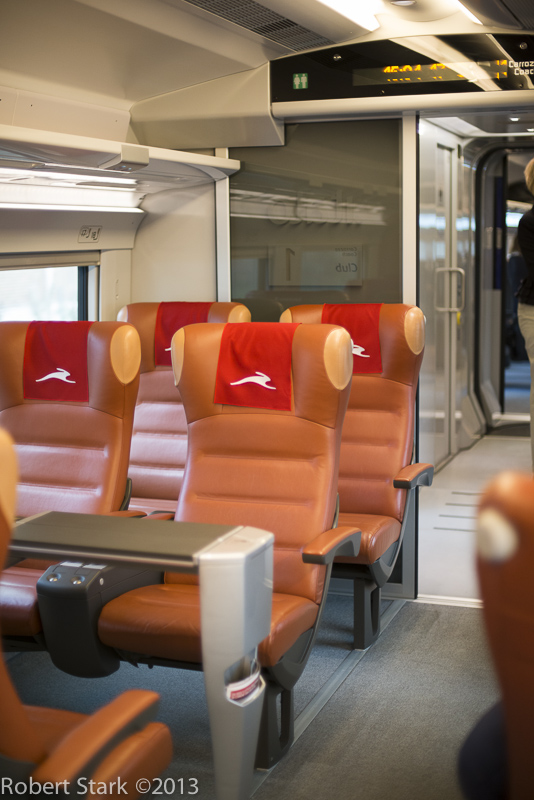 The president of the company and an investor is Luca Cordero di Montezemolo, the chairman of Ferrari. One of the other investors is the head of a fashion shoe company, Tod's. Thus, it should not be surprising that the trains are well engineered and beautifully designed. Interestingly, for a private railroad company, another investor is the French state rail agency S.N.C.F.
 In anticipation of your first voyage with Italo, do take a virtual tour of this extraordinary train, courtesy of Italo.
Train travel in Italy is now a joy.